Wallace Stegner Endowed Chair in Western Studies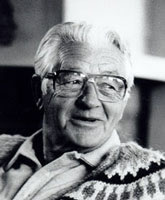 Wallace Stegner
The Wallace Stegner Chair in Western American Studies at Montana State University was established to honor more than half a century of wisdom and commitment that novelist, historian, and conservationist Wallace Stegner contributed to the culture and society of the West.
Wallace Stegner (1909-1993) was a nationally important figure of American letters, winner of both the Pulitzer Prize and the National Book Award for his fiction, a revered member of the prestigious National Institute and Academy of Arts and Letters, Phi Beta Kappa, and the American Academy of Arts and Sciences, and a teacher who helped to invent an entire creative discipline and along the way guided two generations of American writers toward fulfillment of their talents.
Above all, however, Stegner was a westerner. He had grown up with the feel of the Great Plains wind on his skin and the sight of mountains in his eyes. He found the roots of his own life as a writer in the West, built upon that experience to produce some of the most enduring literature in the American lexicon, as well as some of the region's most important histories, and spent his public life in defense of the natural world that gives the West its power to inspire and sustain us.
Stegner applauded the choice of Montana State University as the site of a chair in his name. "There's an awakening in the rest of the country to the West and what it's about," he wrote shortly before his death in the spring of 1993. "And the West is waking up to itself. A chair in Western American Studies at MSU is a splendid way to inform the West about itself."
Stegner knew that MSU's traditions of scholarship had made the university central to an ongoing national reexamination of Western American history, literature, and conservation. A chair in Western American Studies, he believed, could build upon that MSU tradition and help to clarify the West's sense of its own place in the national life.
Equally important, Stegner knew that the people of the West were increasingly challenged by fast-changing economic, social, and environmental trends. An MSU chair in Western American Studies that also embraced a wide spectrum of thinking about the West's future from landscape and community preservation efforts to region-wide economic planning could provide crucial help to those seeking to achieve, in Stegner's words, "a society to match its scenery."
For more information about the Wallace Stegner Chair in Western American Studies, call the MSU History and Philosophy Department (406) 994-4396 or contact the MSU Foundation (406) 994-2053.
"It would promise us a more serene and confident future if, at the start of our sixth century of residence in America, we began to listen to the land, and hear what it says, and know what it can and cannot do." —Wallace Stegner
Support the Stegner Chair Endowment
The Wallace Stegner Endowed Chair in Western Studies at Montana State University continues the legacy of Wallace Stegner by focusing on teaching and research in history, literature, and philosophy with a concentration on pressing Western issues.
Gifts can be made:
Montana State University Alumni Foundation, Inc.
[email protected]
and/or
We are grateful for your support!