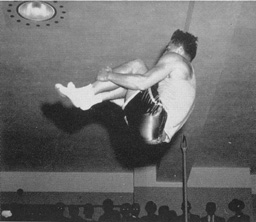 At the top of a double flip, 1955 Montanan
The 1950s was a decade of controversy and expansion at Montana State College. The president of MSC, Roland Renne (1943-64) successfully expanded MSC's campus. In 1954, President Renne persuaded the Board of Education to authorize a $4.5 million bond issue to construct dormitories. Later, he was able to expand the campus a full mile to the west, and one half mile to the south. President Renne's vision of expansion for MSC lives on today. Reid Hall, a major instructional and office building was put into partial use in 1958, a new dairy center was established a year later in 1959, and a new field house was financed during this decade.
Despite President Renne's accomplishments and his obvious devotion to MSC, Renne's presidency was not devoid of controversy. With the fear of communism escalating throughout the country, due in large measure to the Korean War and the hysteria spread by Senator Joseph McCarthy, President Renne felt obliged to keep careful watch over how the university was perceived by the public and the legislature. Although President Renne was a committed liberal and strongly supported the right to academic freedom, he was forced to downplay his ideals in order to secure funds for the expansion of MSC. He even went so far as to deny Eleanor Roosevelt permission to speak on campus.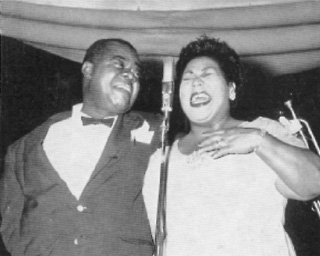 Louis Armstrong Visits MSU, 1955, Montanan
The social and political constraints imposed on American college campuses generated a backlash. At MSC, on March 7, 1957, the "Great MSC Panty Raid" took place as 1,000 MSC male students converged on Hannon Hall, a women's dormitory on campus in order to "stir things up a little." This not-so-innocent prank ended in a riot that took authorities many hours to eventually get under control. One participant was quoted as saying afterwards, "We needed something like that on campus." President Renne had a different perspective, condemning it as a "regrettable incident.
The 1950s marked another notable change on campus. Saturday morning classes were put on the road towards elimination (ultimately in 1968). Faculty and the administration persuaded the legislature that Saturday morning classes were never well attended because of the fatigue brought on by students' Friday night activities.