Students line up to register for courses, Montanan 1976
During the 1950s and 1960s Montana State University experienced tremendous growth in its academic programs, notably on the graduate level. If student enrollments were increasing in the 1950s, they had exploded in the 1960s. MSU had turned into a university almost overnight. But in 1973, President Nixon's budget cuts resulted in serious decreases in federal funding critical to various MSU programs.
Despite the fiscal problems of the seventies, President Carl W. McIntosh (1970-1977) improved the campus. In 1974, the Reno H. Sales Stadium and the new health and physical education center were dedicated on the south side of campus. The stadium opened to large crowds and was the home of the 1976 NCAA Division II national champion Bobcat football team.
One of the most significant events of the 1970s was MSU's successful bid in 1972 to get the WAMI medical program situated on the MSU campus. It had generally been thought that Missoula would be the recipient of this program, but MSU's strengths in the biological sciences convinced the visitation committee to select the Bozeman campus. This decision was considered by many to be a major advancement for science in the state of Montana.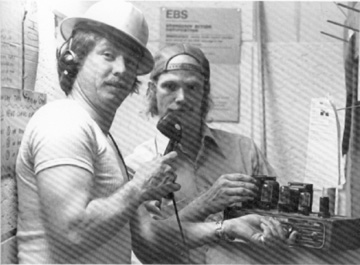 The Birth of MSU's radio station KGLT, Montanan 1976
The 1970s were also an important decade for the Museum of the Rockies. First conceived by Butte physician Caroline McGill and historian Merrill Burlingame, the museum-idea evolved slowly. In 1971, ground was broken for the first module of the museum. (Before this time, its collections, for the most part bequeathed by Dr. McGill, were housed in several World War II-era quonset huts on the northwest corner of campus). Over the decade, plans for the museum continued to develop under the leadership of museum director Michael Hager. With the aid of private and state support, a new structure would be built and opened to the public in 1989.
Students Protest Plans to Fire Popular Professor (1970), Archives
The 1970s witnessed a major challenge to traditional ways of doing business. Several women faculty members successfully sued the university for violating the Civil Rights of 1964 on the grounds that MSU had "discriminated against [women] in the areas of promotion, tenure, salary, and appointment to important university committees." The times were, indeed, a changin'.