Please read all of the following information carefully. These documents and registration forms are essential for your team to compete. Montana Science Olympiad Tournament will be held on Friday, April 15, 2022.
Scilympiad software
We are using the Scilympiad software for back-end scoring during our tournament but NOT for registering students into their events (like we did last year in the virtual tournament).
If you would like to monitor the scores, you and assistant coaches should make an account in Scilympiad. (We will also post them on paper, as we always have).
You do NOT need to enter your student competitors' information.
You do NOT need to register your team for specific events or assign students to specific events
Make your coach account at: https://scilympiad.com/mt (If you already have an account from last year's virtual tournament, please make sure you can still access it.)
Student Code of Ethics and Parent Consent forms due April 14
Before competing, all students must sign a Code of Ethics, AND get consent to participate from a parent (or coach).
Both forms are online, and the form also includes an optional student survey that will help us improve the event for all participants.
Please forward the form link to all student competitors (and let them know their parent needs to electronically sign, as well). Thanks!
The shortened link is http://bit.ly/mtso-code22
---
Coach newsletter
Museum of the Rockies STEM Night is now open for registration!
This event will be held on Thursday, April 14, 2022 from 6pm to 9pm, (the night before the state tournament) and it is a fun way to kick off the tournament. Tour the museum; meet MSU students and faculty and community members; and enjoy a fun evening of STEM. Coaches should register their team rather than having each individual register. You will just need to know how many students and how many adults when you register.
You can also check in your team for tournament day, thus saving time on the morning of Friday, April 15. We will have Science Olympiad hats and t-shirts for sale ($10 each, cash or check only).
STEM Night opens: 6pm
Tournament check-in and packet pickup: 6pm to 7:30pm (can also be picked up at the registration desk Friday morning, but this is easier!)
Magic with Walt showtimes in Hager Auditorium (210 capacity)
Planetarium Showtimes:

6:30pm, 7pm, 7:30pm, 8pm, 8:30pm (110 in each show)

Board Room: Pizza! ($1/slice) CASH ONLY
Registration deadline: Wednesday, April 13, 2022. If you have questions or need to change your reservation, please email Ashley Hall.
Science Olympiad Rules Manuals
Science Olympiad Rules Manuals are available. Download free 2022 Science Olympiad Rules Manuals
MTSO state tournament is for Division B (grades 6-9) and Division C (grades 9-12). Each team can have at most 15 students, with limits on the number of 9th and 12th graders on each type of team.
The rules for team membership, set by National Science Olympiad policy are available here:
Home, virtual, alternative & private school
Information for new coaches
Thanks to all coaches who participated New Coaches' Presentation on Thursday, November 4, 2021. Science Math Resource Center shares the nuts and bolts of Montana Science Olympiad, how the program works, what tournament day is like, and how to get started building a team. Watch the video recording.
MTSO School Registration
MTSO Registration is closed now.
MTSO School Registration Payment
Registration fees have the option to be paid by credit card. Please register your team before paying. An invoice will be sent. Payments are due in the Science Olympiad Office by Friday, March 18, 2022.
Team registration fees can be paid online with a credit card or with a check (we will send an invoice after registration is complete). There is no additional fee for using a credit card.
If you would like to pay by check, please make check payable to:
Science Math Resource Center and send the check to
Science Math Resource Center
Montana State University
412 Reid Hall
Bozeman, MT 59717
Registration Fees:
Division B (Grades 6-9)
$325 Varsity Team of 11-15 Students

$275

Varsity Team of 10 or Less Students
$200 JV Team (second team)
Division C (Grades 9 - 12)
$325

Varsity Team of 11-15 Students

$275

Varsity Team of 10 or Less Students
$200 JV Team (second team)
If you are on a deadline to use funds by a specific date, please use the online payment form or contact us so we can be sure your invoice or purchase order is dated appropriately.
Montana Science Olympiad T-Shirts & Hats
T-shirts and hats are available for $10 each. Design is on the front. Back is plain with no printing.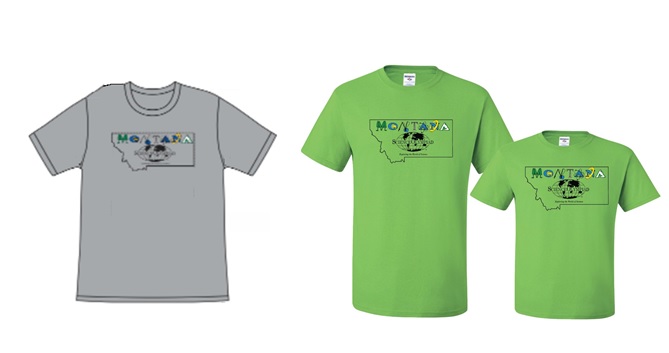 Hats are heavyweight brushed cotton, color is light khaki with navy blue trim.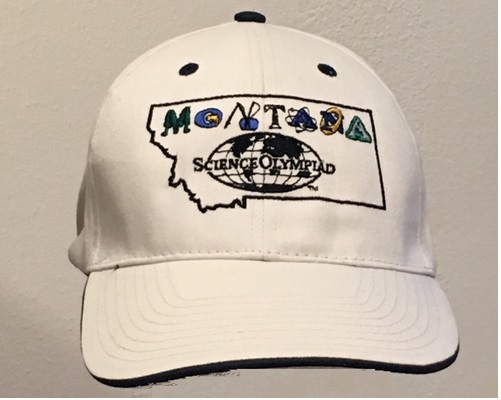 Merchandise will be available at the registration table.
Hats are One Size Fits All.
T-Shirts are available in the following sizes:
Youth
- M, L.
Adult
- S, M, L, XL, XXL.
You can also send your order to [email protected] and payment can be made on the registration table on the tournament day by check or cash.
---
Letter of support coaches can give to school leaders
Need a letter of support to show your school leaders the value of Science Olympiad? Here is one you can print out or download.