Undergraduate Students
What are the required application documents?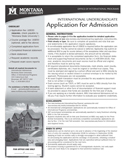 You can download and print the
Montana State University International Undergraduate Application for Admission
using Adobe's Acrobat Reader plug-in, which is available free. If you don't have Acrobat Reader installed on your computer,
click here.
Online Application - For undergraduate students who wish to apply on-line and to use a credit card to pay the application fee, please visit Montana State University's online application site. Note that you will need to click on "Sign Up to Apply" and complete that form when you first begin this on-line application. You will be creating a secure document and will need to choose a password with 4-20 characters.
Need help? Please contact
Susan Reisch
International Student Representative
Graduate Students (Master's and PhD)
Please contact the The Graduate School for information about specific programs at MSU. International graduate students may obtain application forms and instructions or complete an online application at the Graduate School application page.
The Graduate School
Montana State University
P.O. Box 172580
Bozeman, MT 59717 USA
Phone: +1-406-994-4145
Fax: +1-406-994-4733
Need help? Please contact
Brent Leavell
International Specialist