Maps, Directions & Parking
Bozeman Yellowstone International Airport is the state's largest airport.Getting around the Bozeman area is no problem, regardless of your mode of transportation-foot, bike, bus or car. Paths and bike lanes connect campus to downtown and the 60 mile Main Street to the Mountains trail system links the city to the nearby mountains. In addition to routes around town, the free Streamline Bus system runs to the slopes during ski season.
Lodging: Bozeman has a wide variety of overnight accommodations for you to choose from. Visit bozemancvb.com/lodging for a comprehensive list. Look for the hotels that offer an MSU campus visitor discount. This list also includes a discount on Enterprise Rent-A-Car for campus visitors.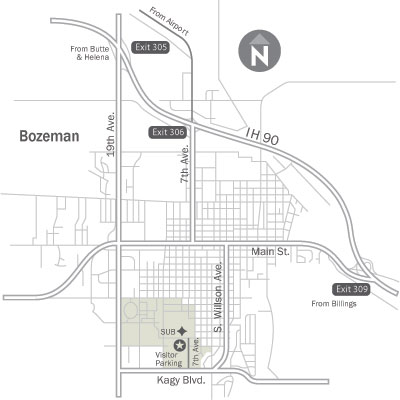 Main Transportation Links
Streamline Bus
Bozeman Yellowstone International Airport
Main Street to the Mountains Trail
Driving Directions
Bozeman, Montana is located on I-90. Two interstate exits will bring you to the MSU campus in Bozeman.
From the west:
Take exit 305 onto North 19th Ave. and follow it south approximately 3.5 miles to Kagy Blvd.
Turn left onto Kagy Blvd. and continue to South 7th Ave.
Turn left and continue to the hourly parking/garage entrance on the left side.
From the east:
Take exit 309 onto Main Street and proceed west to Willson Ave.
Turn left on Willson Ave. and travel 18 blocks to Kagy Blvd. (Willson will curve slightly here)
Turn right on Kagy Blvd. and continue to South 7th Ave.
Turn right on South 7th Ave. and continue to the hourly parking/garage entrance on the left side.
The Graduate Admissions Office is inside Montana Hall (room 108), located at the center of campus. Go up the stairs located on either the North or West entrances. The Graduate Admissions Office is located across from the Registrar's Office.
Many of our visitors prefer to use GoogleMaps or MapQuest to locate campus. Although The Graduate School office does not have an actual physical address, you can use the intersection outside of the Strand Union Building to generate good turn instructions. The intersection is: South 7th Ave and West Grant St, Bozeman, MT 59715.
Parking
Prospective graduate student visitors can park in the visitor pay parking located within the Montana State University parking garage. The cost of the parking garage is $4.00 for the first hour and $2.00 for each additional hour up to $8.00. Otherwise it is a $9.00/per day maximum.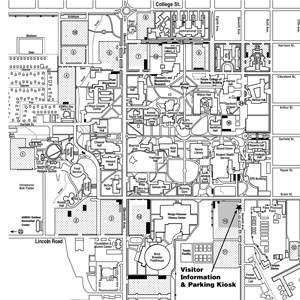 Printable Campus Map
Download and print the campus map (PDF) to take with you while you visit the Montana State University campus.
Online Campus Map
Find your way around campus to locate specific buildings and services through the MSU Campus Map powered by Google.