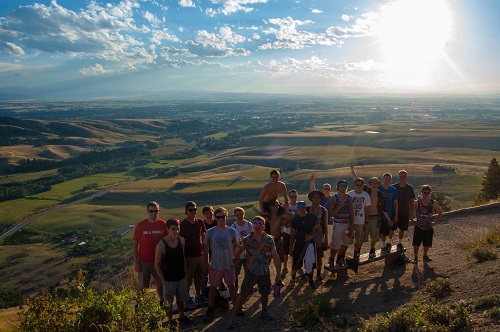 The mission of Sigma Alpha Epsilon is to promote the highest standards of friendship, scholarship, and service for our members based upon the ideals set forth by our Founders and as specifically enunciated in our creed.
SAE is North America's largest social fraternity with more than 174,000 initiated members. Fraternal symbols include the lion, the phoenix, Minerva, and the fleur-de-lis. Sigma Alpha Epsilon was the first fraternity to establish a national headquarters (1929), a national Leadership School (1935), a national Men's Health Issues Committee (1980), and a career-development program entitled the Leading Edge (1990).
Currently, the Fraternity offers a comprehensive member-education program called The True Gentleman Initiative. The Fraternity communicates through The Record magazine, a quarterly publication that has been published continuously since 1880. New members receive a copy of The Phoenix pledge manual for educational development.
Chapter Update
With the advent of this fall semester our house has been hard at work with our new nationally mandated membership program and improving our physical residence. Before school started the brotherhood got together and repainted all of the main floor of the house and put up all of our wall hangings. Future improvements planned entail increasing our fire code standards, re-purposing the living room nook with built in seating, and re-felting our pool table to house colors. Recruitment wise, our house is the biggest it has been in 4 years. With losing 10 men last year to graduation and alumnus status we've retained a house size of 21. After rush and initiation we project that our number will be around 40 members.
Sigma Alpha Epsilon's big event this fall is our Alumni Dinner Fall Formal, promptly placed the weekend after our local founding date, Nov. 1st. If any alumni wants more information about the time or location of the event, please contact our President through our website at www.saemontanastate.com.
Information
Philanthropy
Children's Miracle Network
Address
810 South 7th Ave
Bozeman, MT 59715
Local Chapter Website
saemontanastate.com
National Website
http://www.sae.net/
Recruitment Chair
President

Barry O'Brien

(415) 572-7684