Sorority Recruitment is August 23rd-26th! Registration is now open! Register today!
Sorority Recruitment Outline:
Potential New Member's will meet in the Procrastinator Theater each day before the parties begin
Day 1: Orientation and Go Sorority
All potential new members (PNM's) will meet in the SUB to check in and be placed into tour groups. Go Sorority is the longest night of recruitment. PNM's will have an opportunity to see every house and talk to the women about why they chose to join Montana State's Sorority community. The Sorority Recruitment Counselors will then give a presentation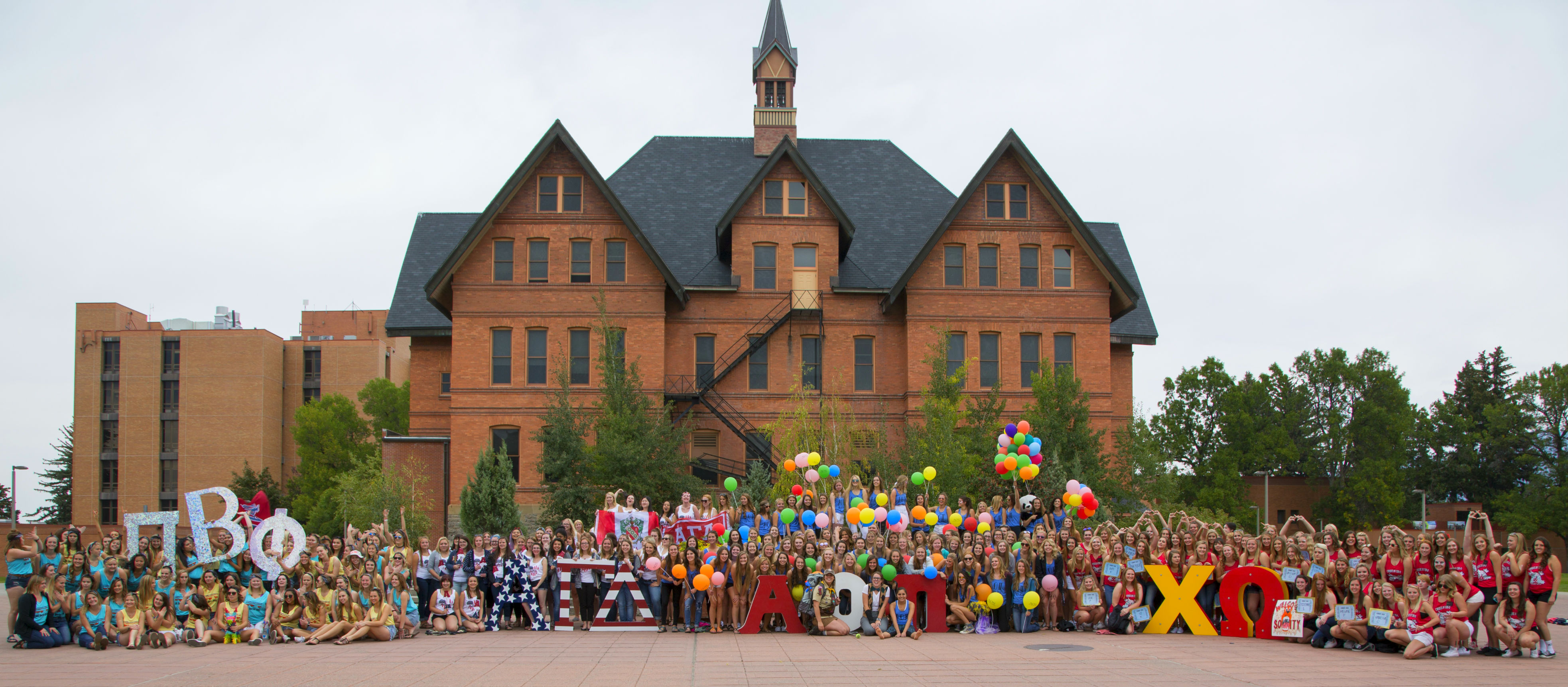 Bid Day on the Centennial Mall.
with information on the four sororities, answer any questions and detail what to expect over the next few days. Each party for house tours will be 40 minutes.
4:00PM: Check in time at the SUB followed by informational orientation session
5:00PM: Walking groups meet and head toward chapter houses with their Recruitment Counselors
5:30PM: First Party begins. Parties are 30 minutes with a 10 minute break in between to regroup.
6:10PM: Second Party
6:40PM: Dinner Break
7:00PM: Third Party
7:40PM: Fourth Party
8:20PM: Fifth Party
9:00PM: Return to the SUB!
Attire: Women should wear comfortable shoes as they will be walking to and inside all the houses. Outfit style should be clean and presentable. Create a polished outfit that will showcase your unique personality and sense of style! We want you to be yourself!
*Click here for a Pinterest board made by your recruitment counselors for more ideas!*
Day 2: Sisterhood and Philanthropy Night
On this night PNM's will attend a maximum of three parties. This night is dedication to showcasing each chapters individual philanthropy organization and how the house builds a sense of sisterhood between members.
1:00PM: Meet in the SUB to receive schedules and check in with Recruitment Counselors. Each party for philanthropy night will be 40 minutes.
1:30PM: First Party
2:20PM: Second Party
3:10PM: Third Party
4:00PM: Return to the SUB!
Attire: This night is slightly more professional than the day before. Check out the Pinterest board for more ideas!
Day 3: Preference Night
This is the final night in the recruitment process. While the schedule has three party slots, women will only be able to attend a maximum of two parties on this day. Conversations will center around a woman's possible future in this sorority and more specific aspects of membership.
After this night PNM's will fill out an MRABA form stating which sororities they will accept a membership bid from. If an MRABA is not signed, a woman cannot join a sorority. Each party for preference night will be one hour.
11:30PM: Meet in SUB to receive schedules and check in with Recruitment Counselors.
12:00PM: First Party
1:05PM: Second Party
2:10PM: Third Party
3:00PM: Return to SUB to sign an MRABA.
Attire: This is the most formal of all of the days of recruitment. Women should wear business professional clothing that would be acceptable for a job interview. This level of dress is referred to as "pin wear"
Day 4: Bid Day
Sometimes called "The Most Wonderful Day of the Year" by active members, Bid Day is the celebration in which women reveal the house they have chosen and meet their new sisters. Have an excellent time and get excited to meet the amazing women of your new organization!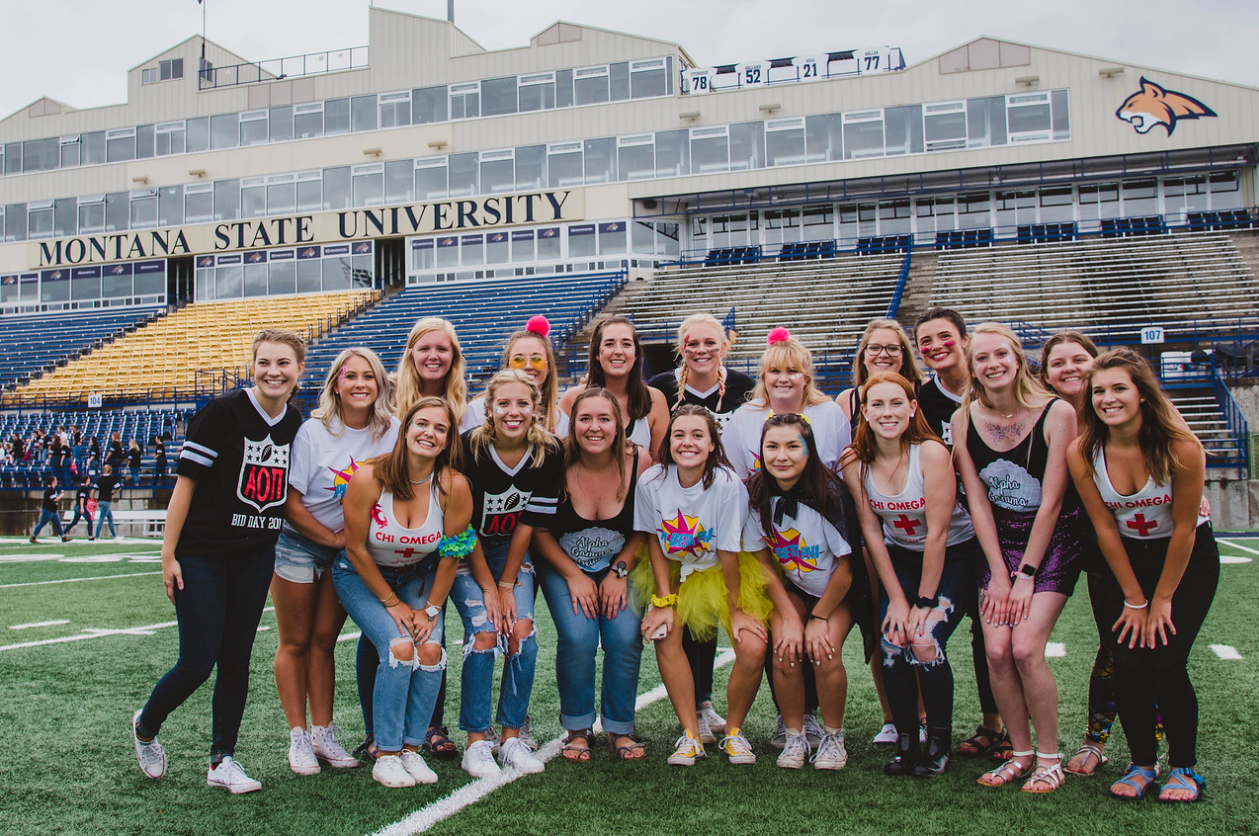 Recruitment Counselors sporting their chapter shirts at Bid Day 2016.
9:00-12:30PM: Bid Pick Up in the Procrastinator.
4:30PM: PNM's check in with Recruitment Counselors and organize themselves for the reveal.
5:00PM: Bid Day begins!.
6:00PM: New members return to the individual chapter houses to celebrate!
Attire: Shirts displaying the letters of the house will be provided with bid cards, bottoms are up to the woman's discretion.
Still have questions about the recruitment process and sorority life in general? Look over our sorority recruitment FAQ's or check out the national "The Sorority Life" website to read testimonials, find parent materials and receive answers to your lingering questions!