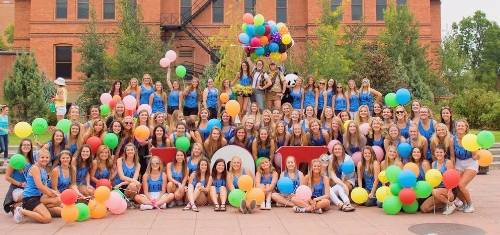 Alpha Omicron Pi's greatest strength is our members... unique as individuals, yet bound together by the common bond of friendship. Since 1897, over 126,000 women have found fun and friendship in the sisterhood of AOII. Our members have a place to call home, a place to find a friend, and a place to be themselves. We also support our members through programming and leadership development. Our desire is to help our members become the best they can be - personally, professionally and philanthropically.
Thanks to the vision of many remarkable women, AOII enjoyed tremendous success during our first 100 years. Alpha Omicron Pi has chartered 178 collegiate chapters, and over 320 alumnae chapters located throughout the United States and Canada. Our members enjoy friendship in AOII for a lifetime. As we boldly focus on our second century, we envision a future even more glorious than our past.
Chapter Update
Our Alpha Phi chapter is carrying over many accomplishments from this past year. At our annual Montana State University Fraternity and Sorority Life Banquet awards ceremony, we won Chapter of the Year, top new member GPA, and top chapter GPA. At our International AOII Convention this summer, we were voted one of twelve Chapters of Excellence taking home awards for Excellence in Ritual, Risk Management, and Membership Recruitment. We also received Honorable Mentions in Community Service and Campus Involvement.
We had another year of successful formal recruitment this fall, initiating 27 wonderful new members, raising our chapter total to 93 women. We are extremely thrilled with our growth over the past few years and are excited to continue the Alpha Phi legacy at Montana State.
Our Fall Philanthropy event, Run for the Roses, was a huge hit. We raised over $3,000 for the Arthritis Foundation as members of the community participated in our 5k and raffle. We are having our Founder's Day celebration in February, hosting many of our alumnae members and sharing special memories on our chapter's 101st anniversary. We are also looking forward to our PR event this spring, inviting members of the Bozeman community to learn more about our chapter.
This past August we partnered with the MSU Alumni foundation to host our Centennial, celebrating 100 years of Alpha Omicron Pi at Montana State. We raised over $15,000 and had over 300 guests attend. We had so much fun with our alum hiking Lava Lake, floating the Madison River and shopping downtown. We closed the weekend with a beautiful Rose banquet. It was a truly special weekend!
Throughout the year, our chapter members stay very involved in organizations such as ASMSU Senate, Advocats tutoring, CAP Mentoring, and the VOICE Center. As a chapter, we completed over 3,200 hours of community service last year and participated in Relay for Life, the National Alliance for Mental Illness Walk (NAMI), Can the Griz, and Service Saturdays. Maintaining strong relationships with the other sororities and fraternities is important to us, and we supported MSU's other chapters by attending their philanthropy events such as Pie a Pi Phi. We are looking forward to another wonderful spring semester, and go Bobcats!