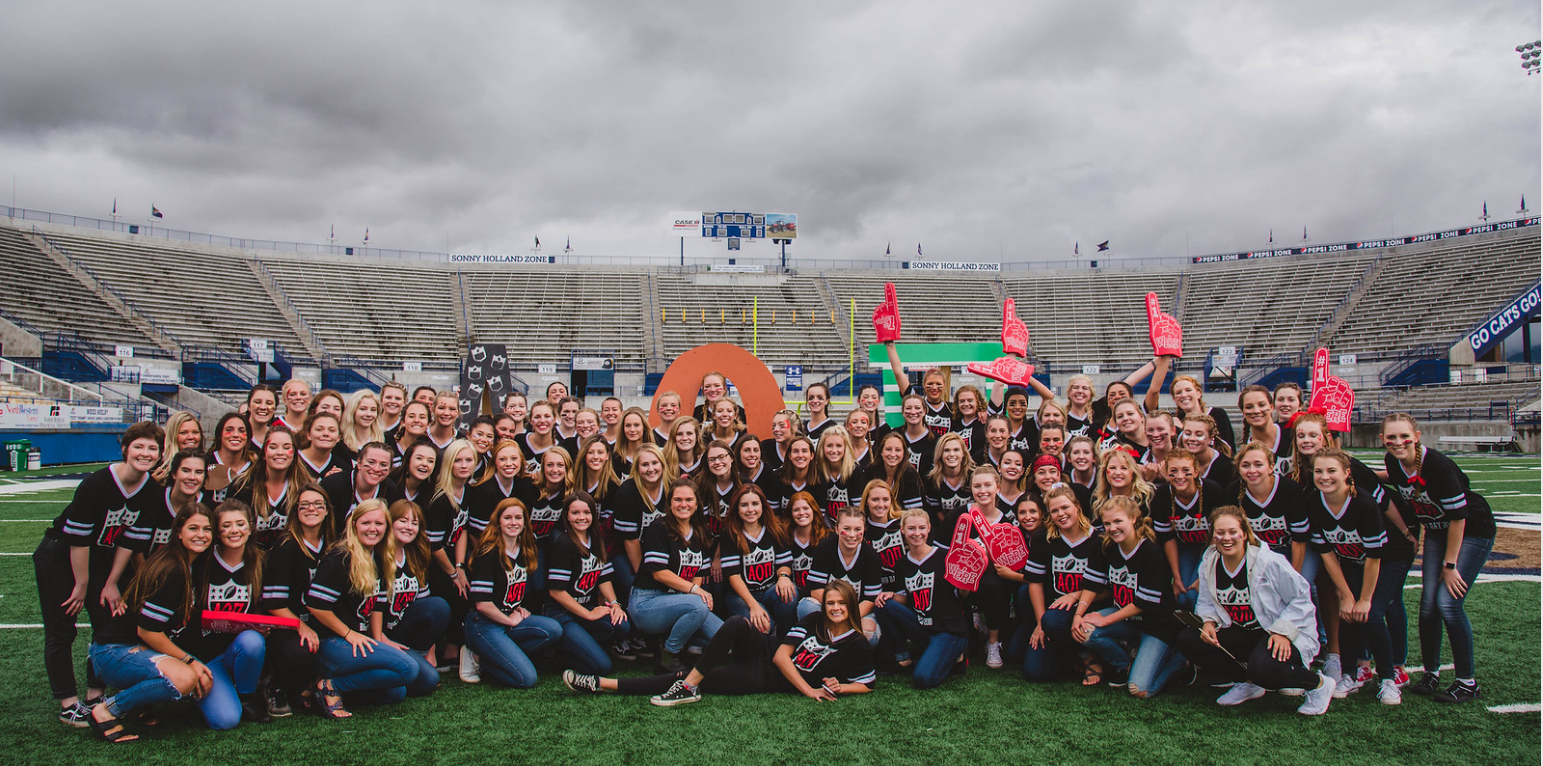 Alpha Omicron Pi's greatest strength is our members... unique as individuals, yet bound together by the common bond of friendship. Since 1897, over 126,000 women have found fun and friendship in the sisterhood of AOII. Our members have a place to call home, a place to find a friend, and a place to be themselves. We also support our members through programming and leadership development. Our desire is to help our members become the best they can be - personally, professionally and philanthropically.
Thanks to the vision of many remarkable women, AOII enjoyed tremendous success during our first 100 years. Alpha Omicron Pi has chartered 178 collegiate chapters, and over 320 alumnae chapters located throughout the United States and Canada. Our members enjoy friendship in AOII for a lifetime. As we boldly focus on our second century, we envision a future even more glorious than our past.
Chapter Update
2018 was a wonderful year full of growth, accomplishments, and celebration for our chapter. In the spring, during the Fraternity and Sorority Life Banquet, we had the honor of bringing home the Academic Excellence Award, Recruitment Excellence Award, Philanthropy Award, and one of our own sisters received Member of the Year (Samantha Clark). We also had three amazing alumnae recognized with the Alumnae Excellence Award (Gianna Vanata, Mandy Hedstrom, and Rita Park). To top it off, we received Chapter of the Year for the third year in a row. We ended the semester by raising over $3,000 for the Arthritis Foundation during our first annual Flapjack Fundraiser, where members of the community came and ate unlimited pancakes with us at our house.
In the summer we sent three sisters to our national Leadership Institute in Franklin, Tennessee where we were received 8 awards recognizing our achievements. This included Excellence in Community Service, Excellence in Philanthropy, Excellence in Finance, Excellence in Sisterhood, and Outstanding Leaders Council. Along with this, three of our Alpha Phi sisters received the Collegiate Women of Leadership Award, an award given out to only twelve exceptional AOII's nationally.
At the beginning of the Fall during recruitment, Alpha Phi was thrilled to initiate 28 new members, expanding the chapter to 91 going into 2019. We also hosted our 22nd annual Run for the Roses, a fundraiser and fun run to raise awareness for juvenile arthritis, where we raised another $3,000 to help aid in research and support for children and families affected by arthritis.
Over the course of the year, the sisters in Alpha Phi chapter completed 4,332 community service hours, with many of those directly benefiting a philanthropy. Nearly 100 local organizations were served by the Alpha Phi sisters this past year, including the Heart of the Valley Animal shelter, VOICE Center, Eagle Mount, CAP Mentoring, and campus food bank, Bounty of the Bridgers. Our members also continue to lead MSU's community with 100% of our members involved with an organization, community service project, job, or club on campus. We have multiple members who are orientation leaders, Advocats, CAP Mentors, VOICE Center advocates and women involved in ASMSU, the on campus student government.
We are so thrilled with our accomplishments over this past year, and we cannot wait to see what 2019 has to bring! We are looking forward to meeting all the amazing women who will go through recruitment and we cannot wait to welcome new members into our sisterhood! Please feel free to reach out with any questions.