Sigma Chi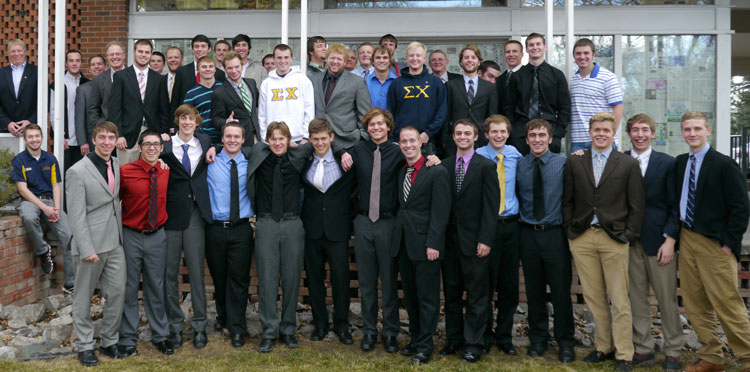 The fundamental purpose of the Sigma Chi Fraternity is the cultivation, maintenance and accomplishment of the ideals of friendship, justice and learning within our membership.
Sigma Chi Fraternity best serves its purpose by developing, implementing and monitoring programs that foster leadership, build character and promote positive relationship skills which, in turn, enable our members to become productive and caring participants in their families, colleges and communities.
Sigma Chi's core values are friendship, justice and learning. Our vision is to become the preeminent collegiate leadership development organization—aligned, focused and living our core values. Our mission is to develop values-based leaders committed to the betterment of character, campus and community.
Chapter Update
Sigma Chi had a rough start this September, after mourning the loss of two of our brothers, Karston Waarvik and Andrew Archer, we did our best to keep our brothers involved and productive.
We started the fall semester with a parking lot concert that went very well and brought our drifting brotherhood back together. We finished renovating our mausoleum with new carpet and furniture which greatly improved the look of our house. We also renovated a couple of rooms within the house to make room for more live-in members in an effort to finally get ahead of the costs of running this house.
We hosted our second annual Homecoming Alumni Dinner with the Alpha Omicron Pi Sorority in late September and welcomed many alumni from both our house and the sorority as well as the Waarvik family. The dinner was a great success and we look forward to next year's homecoming. In a further effort to reach out to our alumni we hosted another alumni dinner on the 95th anniversary of our chapter. Within the next 5 years leading up to the 100 year anniversary we hope to make this event a favorite among our alumni. We hosted a successful Parents Day Dinner and a very well assembled and entertaining Derby Days as well this fall.
Recruitment has been the strongest I have seen in my time here. Any alumni who wants to help or just has some suggestions for the house please email Dillon Haskelll.
Information