Department Internships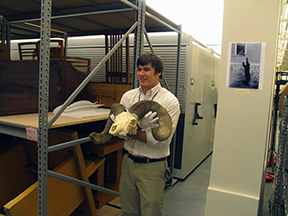 Tyler Watkins catalogs artifacts during an internship in Yellowstone National Park.
The Department of History and Philosophy offers a variety of internship opportunities for both undergraduate and graduate students. Internships are designed to help students gain career skills within their field while also contributing to the greater Gallatin community. Many of the internships listed below may be completed by students for credit towards graduation.
Current Internship Opportunities
The internship program at the Gallatin Historical Society and Pioneer Museum is available to graduate or undergraduate students at a college or university. Application is made through a personal interview with the museum director, email John Russell.
The Buffalo Bill Historical Center offers summer internship programs providing specialized learning experiences in a museum setting. They offer seasonal paid internships as well as volunteer opportunities throughout the year.
For more information on internships, please visit http://centerofthewest.org/learn/internships/.
Positions Available:
Analysis of Floor Area Ratios and Massing Patterns within the Neighborhood Conservation Overlay District
Research of potential historic districts
Transition of existing walking tours of historic districts into a digital format
Study of landscape design in historic neighborhoods
Completion or continuance of "The Dots Project"
Story Mill Precedent Study
East Willson School Precedent Study
To apply, please contact Courtney Kramer, Historic Preservation Officer, 406-582-2260
To learn about current internship opportunities at the Yellowstone Gateway Museum, please visit http://yellowstonegatewaymuseum.org/volunteer/.
The Student Conservation Association (SCA) is the nation's leading provider of expense-paid internships and service opportunities in parks, forests, historic sites and urban communities in all 50 states. Interns participate in programs 3-12 months long, during the summer or year-round.
Internship Contact Information
If you have any questions about internships, please contact Kelsey Matson or stop by the main office for the Department of History, Philosophy and Religious Studies Department, located in Wilson 2-155.
Internship Application