Engaging Students and Creating Community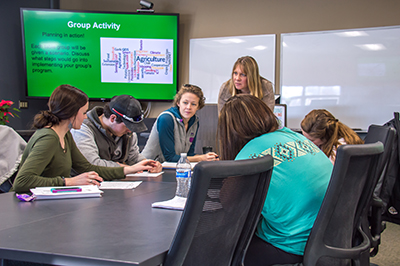 Research shows students succeed at higher rates when they feel connected to other students and their faculty. Classroom community helps incentivize regular attendance, too. Most students will not initiate conversations with their classmates without encouragement and structure from their instructors. Similarly, we know many students do not take advantage of faculty office hours. Below are suggestions for connecting with students and building community in your class.
Creating Community in Your Classroom
Office Hours
While office hours are critical information on your syllabus, students will need to be reminded that these times are specifically dedicated for students to connect with you and receive your help outside of class. Across the semester, regularly encourage them to take advantage of your office hours.
Let students know it is normal to visit you during office hours just to say hello.

Especially if it is just to say hi, tell them it is ok to stop by in pairs or small groups.
Share the aspects of your class that keep you curious and excited, and invite students to stop by your office and discuss those aspects of your course.

If your class has TA's have them reinforce your messaging about office hours when they are working with students.
Keep your office door open or cracked during office hours and other times you are available.
Normalize student use of office hours by communicating early and often, rather than waiting until they have their first exam or paper and receive their first grade.

Signal to your students that you care about their success and that success comes from class attendance and their utilization of your office hours.

Entice students to visit you during office hours by sharing with your class about an interesting artifact, book, or model you keep in your office – make them curious about visiting your office.
Share with students how they will benefit by taking advantage office hours.
Because some students will not be available during your office hours, it is a best practice to communicate that students may also make an appointment with you to meet in person or in video chat.

The Faculty Responsibilities section of the Faculty Handbook states that all MSU faculty "be available to students outside of class through regularly scheduled, in-person meetings and individual student appointments," and includes other relevant policies concerning office hours.
Creating Community in Your Classroom
We know engaged students are most likely to be successful students. Community in the classroom is an important component of student engagement, including student connections with both faculty and peers. Below are several ways you can facilitate those critical connections.
Use the first day or two to introduce yourself as you introduce your syllabus to your class. Visit the CFE Your Syllabus on the First Day of Class resource.

Tell students the ways you expect them to address you.

In smaller classes employ activities requiring students to learn one another's names.

Pair/Share elements of your syllabus.
Have students interview a peer and introduce them to the class.
If you use a rank/order exercise, make group work part of it.

In larger classes use the beginning moments of a class to have students introduce themselves to one person they do not know seated near them. Repeat this during the first several class meetings.

You may refer to this as a way for students to find a study buddy or a study group.
Regularly having students meet a new peer at the beginning or end of class will normalize students connecting with their peers and build micro communities in your large class.

If group work is part of your class, explicitly have students learn their group members' names as the first step in the assignment.
Use techniques to learn your students' names.

Ask students to state their name when asking questions during class. Repeat their name as you respond to their question.
Take attendance during the first few weeks in smaller classes by asking students:

their preferred name (The first time.)
to bring a question about the class or discipline to each class to be addressed during rollcall.

In smaller classes use name tents.
When you cannot remember a student's name, ask them their name by saying something like, "I am sorry. I should know your name but am blanking."

In 2021, we hosted a workshop with Chad Littlefield from We and Me on Connection Before Content.

Using class time to build community before you begin disciplinary content helps students feel connected to the class.
You may have innovative ways to build community through content, too.
Carnegie Mellon University list numerous ways for creating community in the classroom.